The characteristics of azs fused corundum brick
2019-03-13 16:42:42
First of all, let us introduce the main work position and function of our sunrise refractory AZS electrofusion cast zirconium corundum brick production process.
The main station flow of the production line: sand box → sand box bottom filling device station → vibrating device station → plate chain conveyor → filling and vibrating supply device station around the inner side of the sand box → upper part of the sand box supply device station → After filling, enter the annealing and cooling process (laying for several hours according to the process requirements) → unpacking after cooling → synthesizing the whole sand box and transporting the above production line again for cycle work.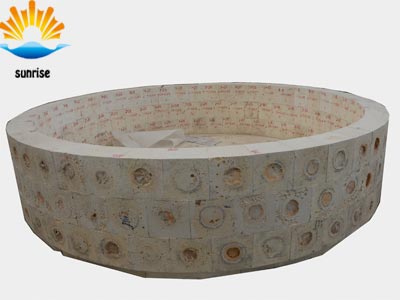 Then, let's take a look at the use of fused zirconia corundum from Zhengzhou sunrise refractory. It is believed that the AZS product has a good operating characteristic temperature and should be limited to 1500 ° C or less, which is suitable for the general glass kiln at this stage. However, with the development of science and casting, the continuous improvement of refractory technology requires the development of new refractory materials that are more resistant to high temperatures and corrosion, and people are constantly doing a lot of research work. With the development of science and technology and the nature of zirconium corundum itself, this product has a lot of room for development. Refractory materials are important basic materials necessary for high-temperature industrial furnaces such as foundry, metallurgy, building materials, light industry and chemical industry. They are widely used in important economic sectors of the national economy as well as in military and aerospace fields.
Not only that, we also designed an automated production line to meet the automatic production of equipment in accordance with the process, improve product quality and production efficiency, save a lot of manpower, the successful operation of the production line is conducive to the development of domestic casting zirconium corundum brick.