Sunrise Refractory Fused Cast High Zirconia Block For Sale
2019-01-17 15:31:31
Zhengzhou sunrise refractory is the factory which specially produce and export fused cast high zirconia block. Our company can provide various kinds of fused cast high zirconia block for sale, and today, i will especially introduce the series of TY - Z, TY - Z are fused cast high zirconia refractories which are specially designed refractory for glass furnace application. Fused cast high zirconia bricks are made of artificial synthesis high purity raw materials through special casting process. The crystalline texture consists of baddeleyite and with the characteristics of excellent high temperature & corrosion resistance, low blister and stoning potential. These advantages can prevent liquid glass from pollution effectively.
Then i will take a brief introduce of the application field about our fused cast high zirconia bricks for sale.
1. Sunrise refractory fused cast high zirconia brick for sale has wide application in a wide range of super high temperature furnaces and kilns in military industry,science research, high melting point Metallurgical, laser crystal and electronic,etc.
2. Our fused cast high zirconia brick for sale also can be used in high quality and special glass furnaces such as TV glass, Borosilicate glass, Alumina silicate glass, Halogen lighting glass, Opal glass and Fiber glass.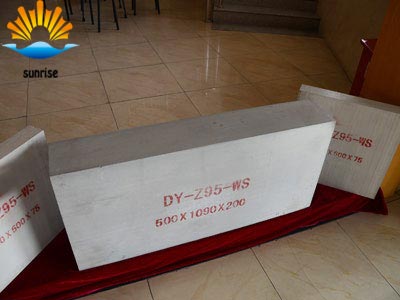 Zengzhou sunrise refractory has many years successful experience of export refractory bricks. we supply high quality electro fused zirconia refractory bricks and blocks for many around the world.
Electro fused zirconia refractories useful as high temperature construction materials for furnaces and kilns because of its very high strength at room temperature. The thermal conductivity of zirconia refractories is much lower than most of other refractories, because of that it is used as a high temperature insulating refractory. Since it is not easily wetted by molten glass and because of its low reaction with molten glass, Zirconia refractories are one of the main refractory material for glass furnaces.