Sunrise Refractory -- Best Manufacturer And Supplier of Fused Cast Alumina Block
2018-12-03 16:20:52
We are engaged in manufacturing and exporting excellent quality Fused Cast Alumina Block to our customers. Sunrise refractory Fused cast Alumina Block for sale comprises of a majority of β alumina crystals and a slight portion of α alumina crystals in compact structure. Moreover, the intersected texture of large ß-alumina ensures great dimensional stability and great resistance against spalling. Its property of base saturation enables a higher resistance to alkali vapor, thus it has excellent thermal shock resistance and does not form molten droplets. Sunrise refractory Fused Cast Alumina Block is the best material for molter crown, port crown,feeder channel.
Above all is some applications of sunrise refractory fused cast alumina block for sale.

Below 1350 ℃, it has excellent corrosion resistance against molten glass and great performance against contamination to molten glass, thus it is very suitable for paving blocks and fore-hearth channel blocks.
When in contact with molten glass, it barely produces any blistering or stones. So, α-β alumina blocks may be widely used in working tank, feeder channels, superstructures and lipstone, etc.
In general, in soda-lime container furnaces α-β alumina fused-cast is installed in the Alcove and channel areas, as alternative to AZS fused-cast for Alcoves and as alternative to AZS fused-cast, zirmul, sinter-alumina and other sinter refractories for channels.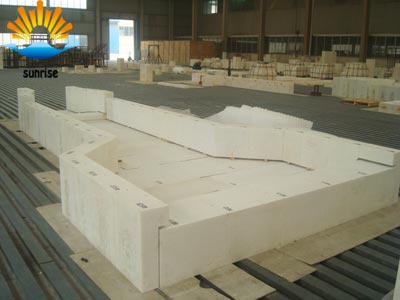 If not sure what fused cast alumina block material you need, please tell us your any requests on fused cast alumina block material performance and specification & working temperature & working environment as well as application, according to your requirement, we can recommend suitable fused cast alumina block for you, and we can make sure that you can't disappointed.

If you are already make sure what kinds of fused cast alumina block you need, please provide the drawings you need, we can do better, and satisfied your any technology requests. I am looking forward to your letter.