The Advantages of Sunrise Refractory Company Fused Cast Alumina Blocks For Sale
2018-11-28 16:33:28
Fused cast alumina block is also called fused cast α-β block which is mainly composed of Al2O3 whose contents is more than 94 percent , and it is produced by melting and casting high purity alumina in electric furnace at 2000℃, α-β corundum products is formed when alpha alumina and beta alumina inter-combine during their crystallization stage. This process directly leads to its dense structure formed, so this block has excellent endurance to strong alkali. Under 1350C, it has strong corrosion resistance and almost does not contaminate to glass melting liquid. Because it does not contain impurities such as Fe2O3 and TiO2, when it comes into contact with glass liquid, air bubbles are rarely found.

Therefore, this product has the special characteristic of minimizing contamination to glass liquid. With the excellent performance, fused cast alumina block TY-M (α-β block) is mainly used as the ideal refractory material for feeder channel, spouts and working ends of glass furnaces.

Sunrise refractory Fused Cast Alumina Block for sale have many Features:
1. Strong glass corrosion resistance and high thermal shock stability.
2. Good wear-resistance,drags-resistance and alkali corrosion resistance.
3. High-purity raw material, less pollution.
4. Our sunrise refractory company can provide you the high quality product and long after sales service.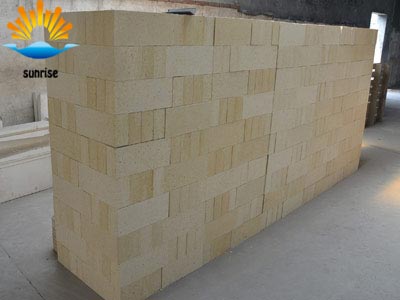 Our sunrise refractory company can produce serious specification fused cast alumina 33#,36#,41#AZS block for glass furnace, and its output is over 5000 tons per year. In the enormous working premises—more than 6600square meters, high-power transformer, thaw craft with computer control system and internal advanced fused cast refractory umeral caontrol grinding equipments according to its body producing ability.

Our sunrise refractory fused cast alumina block can be application in many plays:
1.Sodium silicate furnace, ceramic frit furnace, glass furnace, etc.
2.Important parts of furnaces where chemical erosion is serious and temperature changes frequently.
3.Lining of fused cast refractories for glass furnaces.
4.The chemical industrial, metallurgical furnaces.

If you want get more information about fused cast alumina blocks for sale of sunrise refractory, welcome send e - mail to me get a free quote. I am looking forward to your reply.